BREC Men's Flag Football League
Have a blast on Sundays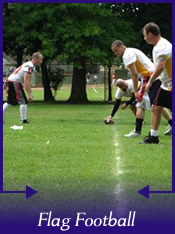 I've played men's sports in basketball and baseball with our local fun leagues but the football league is by far the most fun. All of my LSU football tailgating buddies and I got to talking about the league and decided it was time to put together a team.
Team Beerfest was born and we went out to take the field in the fun division of the league.(there is a fun league and a serious league) We had 10 of the most fun Sundays in the spring edition of the league.
Any football fans out there who are still in any sort of shape should consider putting a team together. People bring their families out and enjoy a nice few hours at the park while their guys play football. A truly great time.