Fun For Kids In Baton Rouge May 2010
Have Fun For The Whole Family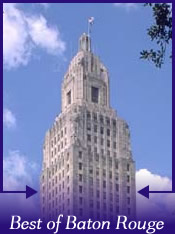 As I sit here suffering with a cold and taking care of my daughter I've been looking around at events for this month and new things around Baton Rouge. Really lots to do from a family point of view and I wish my baby was a little older so we can enjoy them together.
I've really noticed that the Shenandoah Elementary Fair is being held this weekend mostly because I live in Shenandoah. It's great fun for the kids. I've walked over a few times in previous years to take a look at all the games, enjoy some fair food and watch the rides. If you have young kids and want to enjoy a small cozy fair then this is for you. Easy in, easy fun, easy out!
The
Baton Rouge Zoo
has a new Tiger exhibit called Realm of The Tiger. I've been dying to go see this and plan to as soon as I get back on my feet. The Baton Rouge Zoo has tons of special education programs for kids at the zoo which are just awesome. Summer camps, overnights, morning learning programs and more. They also hold special fun for just about every holiday.
Disney on Ice will be at the River Center the the weekend of the 8th. Short notice but go see!
The Highland Road Observatory has a lot of great fun learning programs on weekends but they start up their Stargazer's Camp the last week of May. Really cool learning fun with soda rockets, telescope kits, constellation identification, planet crafts, sundial creation, helicopters, field trips, rocket kits and more depending on age. See more at their
website
.
The Jambalaya Festival kicks up the last week of May which I love. It's a medium sized festival in Gonzales by city hall. A really safe, clean and organized part of Gonzales that I love since it's 3 blocks from where I grew up. Great food, rides and tons of live music. They also updated their website with great new information
here
.
These are just a few quick updates on the top of my mind for what's good in May. Let me know if you have any others.