Live After Five Fall Season
The Great Musical Celebration Returns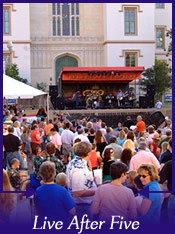 Live After Five
is an excellent weekly music event taking place downtown on Fridays at 5pm. Many of us know about Live After Five but need to be reminded when it comes up in the Spring and The Fall.
The 2008 Fall season begins September 19th with the great band Hip Boot Joe. For 8 weeks every Friday there'll be a great band playing on a huge stage behind the Old State Capitol starting at 5pm and running until 8pm. It's one of the don't miss events in Baton Rouge that really kicks the weekend off downtown.
Best of Baton Rouge keeps the Live After Five concert times on our events calendar. Optionally you can check out the
Live After Five Website
.