LSU VS Florida Where To Go Friday
If I were in town where would I go out?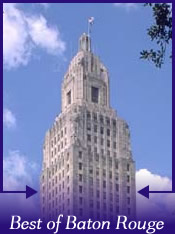 If you're coming in to Baton Rouge this weekend for the LSU vs. Florida game there are some great opportunities for live entertainment Friday night especially downtown.
For Downtown
At 5pm the band "The Long Neck Society" is playing downtown right next to the Old State capital in a live music event called "Live After Five". There's beer, food and good music.
Right next door at the River Center you can see USA MMA team Louisiana vs team Florida which looks like a huge cage fighting event. The fights start at 7:30 with doors open at 6pm.
Later that night on 3rd street there is live music at Boudreaux and Thibodeaux and I love Happy's Irish pub for drinking.

Closer to LSU


Cowboy Mouth & Meriwether are playing at the Varsity. Enough said this will be awesome. Right next door is The Chimes for great food & beer selection.
Fred's in Tigerland has open bar from 7-9 and a band called 2 Hypnotic playing. You can get all kinds of crunk with 2 hours of open bar.(I can't remember if it was $10 or $15 last time) I don't know much about the band but last time I went to open bar at Fred's I had a blast and I'm 30.(Fred's is a college bar especially late)

For any other info check our front page events calendar.