March Is One Of My Favorite Months In Baton Rouge
Every year I get excited about March Events In Baton Rouge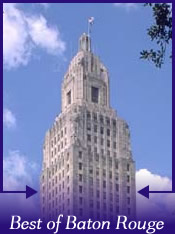 Personally I really love the Spring in Baton Rouge. It's part of the short time of year here where the weather is just perfect and it just so happen's to be the time of the year that two of my favorite Saturday events happen back to back.
St. Patrick's Day Parade
This parade is more a tailgate and hang out day along the roads of Perkin's than it is just a parade. Everyone gets out sporting their green and has a great time all day drinking green beer, BBQ and just enjoying the Spring weather. I personally love it so much and look forward to this day more than any Mardi Gras. It just has so much community flavor it's really worth experiencing every year. Read more about
St Patrick's Day Parade in Baton rouge
on our post page. For 2010 it's on March 13th.
Zapp's International Beer festival
I love beerfest. This event has been around for 6 years now and in 2009 they really hit their stride. 2008 was a little crazy because that's when their name really got out and the event got too big for it's support structure. However in 2009 they got very mobilized, limited ticket sales to 1500 and put on one hell of an event.
Around 3 hours of all you can sample beers from major breweries, craft brewers, home brewers as well as some restaurants. $30 is all you pay and it's well worth the time. There is live music, food and you get to look around the beautiful LSU rural life museum. You can read more about
Zapp's Beer Festival
on our post page. For 2010 Beerfest will be March 20th. Order your tickets in advance!
I'll actually be having a beer of mine served with
Red Stick Brewing
which is our great local home brewing store. German Schwarzbier that's quite excellent and takes 2+ months to make.
Can't wait until Spring and hope to see you out there Baton Rouge. It's a great time of year that makes me think of how I shouldn't complain about the Louisiana heat so much because I sure as heck don't want it to be cold!
March 30th is Bayou Country Superfest
I have to admit I'm not the biggest Country music fan but even I recognize the big names coming to Baton Rouge for this huge event. Ticket prices range from $40-$250 but the lineup of music is fantastic.
Check out
their website for complete details but it's basically a who's who of Country music concert.