Red Stick Roller Derby At River Center
Come check out roller derby action.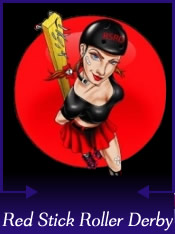 Red Stick Roller Derby would like to announce their upcoming bout against Auburn AL's Burn City Rollers at the River Center on Saturday June 27, 2009. Doors @ 6, Bout @ 7. Tickets available at the River Center box office, at Schlitz & Giggles Pizzeria, and on Ticketmaster.com.
Personally this is something I can't really see myself passing up. After looking over their website I gotta say I must see any chick named "Abita Hoedown" or "Unholy Horror" in person. It looks like serious knockdown drag out fun.
Check out the
Red Stick Roller Derby Website
for more info.