Baton Rouge - Book Review
A Great Images of America Adventure in Pictures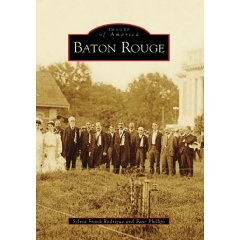 I was passed this great new historical treat and spent my evenings going back through the history of Baton Rouge in fascinating pictures and captures. Newly release by Arcadia publishing this book is a true pleaseure that should be explored by anyone wanting a glimpse at Americana. I thoroughly enjoyed this book until my wife stole it out my hands and began thumbing though it in amazement.
The pictures featured are drawn from the huge collections of LSU Libraries and the State Library of Louisiana. Most of the photos were taken by the most famous of Louisiana photographers such as Andrew Lytle, Fonville Winans and David King Gleason.
I was also given a wonderful set of postcards featuring pictures from our wonderful city.
Baton Rouge
, $19.99 and
Baton Rouge
(postcards), $7.99 are available from Arcadia publishing. You can find it at any of our great bookstores in town or through
Arcadia Publishing Website
. (888)313-2665