Breakfast In Baton Rouge
It's Not Limited To Waffle House Folks!!!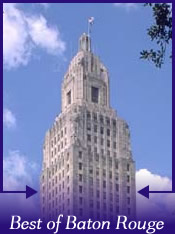 For my wife and I breakfast on weekends is a must. Typically either Saturday or Sunday we will go out for breakfast. She's a lifelong fan of the Waffle House of all places due to her father bringing them there when they were kids. If you're not familiar with Waffle House they're the restaurant that's most popular with seriously buzzed folks at 3am after all the bars have closed. Don't get me wrong I like the Waffle House now and then but for some reason people around Baton Rouge will wait 30 minutes or better to eat at Waffle House when there are so many other options available.
Case in point being this past Sunday when my wife argued here turn to pick breakfast. Usually I'm picking Mason's Grill or Franks Smokehouse with a sprinkle of Coffee Bean since they're all closed to our Shenandoah home but it was time to be fair.(marriage) We head on over to Waffle House on Highland to find a wait out the door for a seat. Well she's pregnant and hungry so I suggest that Frank's is 5 minutes away. We head over to Franks, are immediately seated and are eating in less than 20 minutes from the time we left Waffle House. Total bill was $17 where Waffle house would've likely been in the $13-17 range as well. Better food, better service and fast at Franks.
The point of the rant is people need to venture out more in Baton Rouge. There are great places like those listed above all over the city for breakfast where you'll get a better product, faster and without the horrible service we all know and hate at Waffle House. It's just Waffle House is so easy to find that keeps them full. Really folks open your eyes and look around every once in a while. You'll be surprised how much more diverse your community is. Check out our
Baton Rouge Coffee & Breakfast
page for a list of places in town. Additionally on weekends Mason's Grill, Cheesecake Bistro and others serve brunch.