Christmas Season
Tis The Season To Go Crazy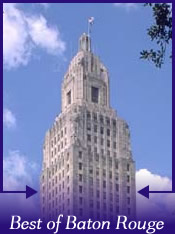 It amazes me every year how Baton Rouge changes around Christmas. All the hype in to the Friday after Thanksgiving shopping takes place and then boom. Traffic triples and people go absolutely crazy getting ready for the Christmas season. It seems to make everything just a little harder in Baton Rouge and it translates in to everything that goes on around Baton Rouge.
For instance my wife and I have just had our first child. We were driving home and while making a left turn at a red light I was taking it easy but going perfectly fast enough. Some guy behind us in a pickup goes absolutely berserk hitting the horn and swerving. He spins past us as we turned in to the CVS to get our babyís medicine. My thoughts were wow people really do lose it around Christmas in Baton Rouge.
I donít rant much on this website but Iíd like to say please take it easy to all my fellow Baton Rouge citizens. Weíre all busy this time of year and it really does look like lots of us forget that itís a celebration not a job.
That aside everyone should remember the Christmas parade for Baton Rouge takes place December 12th 2009. We also have ice skating at the River Center starting December 18th. The annual festival of lights downtown will be on December 11th at 4pm. All great events to check out.