A Little Trip around the World in Metro Baton Rouge
Great food at great restaurants.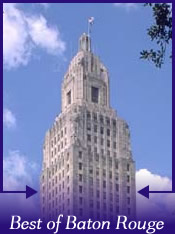 I've got my wife to thank for the past few days of really good eating. She can't just have basic food at home sometimes which leads us on daily eating out. We really went around the world touching on some top popular cuisines. Almost like a mini-international trip with a couple of stops at home. Here's where the trip took us:
Romans Lebanese Cafe on Airline
I hadn't visited Romans in a while but I'd been hearing a lot of people talking really good about them lately. I wondered because my previous visits weren't super impressive so it was time to check them out. I love Greek and Lebanese and in Baton Rouge there is no shortage of options. This visit proved the buzz was correct on Roman's. They've really stepped up something in their food because it was outstanding. I ordered the Shawarma sampler and found that their meat has improved being more moist and flavorful. I was very impressed. Maybe I'm wrong but they're the first place I've been which offered a beef shawarma which was outstanding. It made me think man this stuff would make a great philly which started a conversation which led me to our next stop.
South of Philly
If you haven't been to South of Philly you don't know what you're missing. We hit the drive through on the way home to pick up a classic philly cheesesteak with American cheese and an order of their fries. The cheesesteak continues to be just outstanding. Their rolls/hoagies are just perfect vessels for the sweet meat they serve up. The meat is never too greasy and just bursts your taste buds. American cheese is definitely the way to go here as it's just so tasty.
Hunans Chinese
For me a dinner at Hunans is just the perfect meal. To me this is the best Chinese restaurant in Baton Rouge. You always meet the smiling faces of the same staff every time you go there, the restaurant is beautiful and full of character with all the pictures of Mr. Chang over the years with famous people and the food is great every single time I go. We have a usual order that's just spot on every single time we go. 1 large Sapporo for me and a lychee saketini for my wife. The saketini is a knockout drink ladies, just delicious. For appetizers we have the Bo Bo platter which is served with a little flaming grill on top of a decorative dish. It has a sample of 2 of each of their appetizers. For an entrée we split an order of fried rice. Easily the best rice in town made fresh to order. Sometimes we mix in an order of Rangoon, beef teriyaki or noodles. The food has never been short of excellent.
Ahuuas Mexican
Our favorite neighborhood fun dinner spot is Ahuuas. You never know what grasp on English your waiter will have, the happy hour half off large margaritas is outstanding, the tamales are excellent and it's just cozy. For us it feels great to go relax at Ahuuas because it has that locally owned and operated atmosphere that makes it like home. We also really enjoy their patio area because it stays kind of cool but gives you that outside feel you want eating outside. The food for the price is outstanding. It's as good as any other Mexican restaurant in town at more modest pricing.
Masons Grill Breakfast Saturday
One of my favorite restaurants got to be that way due to their weekend brunch. Most weekends we order brunch to go and this weekend we ordered the Croissant egg sandwich, French toast and hash browns. Mason's take on these dishes is very much their own and very tasty. Always great I think Masons should be part of everyone's breakfast rotation on weekends. Additionally if you're a champagne lover you should know their endless champagne brunch is a great deal.
Latte E Miele
I've been dying for that great ice cream fix. Looking around for something new to me I discovered this fairly new Italian gelato store. So we packed up the family and went for a visit Saturday night. Wow is the only word I can think of to describe the taste, smoothness and creaminess of their gelato ice cream. It's easily the best ice cream I've ever had and life will never be the same. They have a dozen or so flavors of this smooth Italian treat and while we were there it was flying off the shelves. The buzz is 100 percent correct that Latte E Miele is an outstanding place. If you don't visit it you're doing yourself a disservice.