Ahuuas Mexican Restaurant Keeps Getting Better
We Enjoyed Our Visit Saturday Night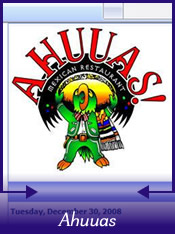 Ahuuas is a great Mexican restaurant. They opened in 2006 to be the only Mexican restaurant in the Shenandoah area. Others have opened but they're the one who's really taken their menu and entertainment value to the next level. This Saturday my wife and I decided we wanted some Fajitas and theirs are great. We stopped in at 8pm to find a completely full parking lot. Sounds of live music coming from their outdoor patio as they had a musician playing guitar and singing. A really great time was going on. We walked in to get a table and I was shocked at how many people kept coming in. I hadn't realized just how well Ahuuas has integrated themselves in to the community.
The service was as always perfect. They all really do such a great job every time we come in. Our fajitas were perfect & sizzling.
If you haven't ventured out to Ahuuas Saturday night is the perfect time for a first visit.