BJ's Brewhouse
Excellent New Restaurant & Brewhouse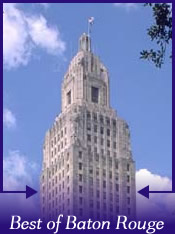 Bj's is a new edition to Baton Rouge for 2008. They're a chain restaurant with locations all over the United States however it's obvious that they really take pride in their product. This is a great new edition to mid-city over in the Mall of Louisiana's new construction that's expanded our mall into a regular shopping/entertainment complex. I very much enjoy BJ's atmosphere, food, service and...oh yeah...the BEER.
They describe their atmosphere as casual and high energy which they definitely live up to. Walking in to BJ's it's a very open area. For me it's all about the bar area which is a long, tall, beautiful dark wood bar with lots of seating. A huge multi-panel television at the center making it a great place to watch a game. Many of our local business people seem to like to stop here for drinks after work.
Really though it's all about the beer to me. They have around 8-12 of their very own specialty tap beers that they make themselves. They also keep around 20 taps of great beers from all over the world. A specialty brewhouse was a very much missed addition to the Baton Rouge scene. They have a good happy hour with $1 off pints.
The food is excellent. I've had the great beginnings appetizer assortment and find it to be excellent. The deep dish pizza they serve is also a must. My wife loved her pasta.