Baton Rouge Sushi
The Best Chirashi Lunch Box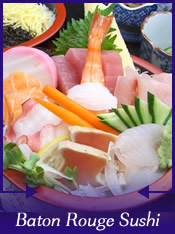 Baton Rouge has numerous offerings for sushi lovers. Personally I have the most experience with ordering Chirashi lunch at the various places in town. I'm a big Chirashi sushi fan so here are my takes on the places I order at most often. I don't talk any about pricing as that information is subject to change. However they're all in the same price range plus or minus a dollar but with minor differenes in their offerings.
Kamado's - The best thing about the Chirashi at Kamado's is that it comes with both Miso Soup and a Cucumber salad. Nobody else gives you the salad in the price. The con is that the amount of sushi in the chirashi offering is far less than their competitors so if you're big on the fish like me then you really notice this.
Hello Sushi - They give you a really nice spread of sushi with a good variety. Miso soup isn't included but you don't pay for it and it's offered for an additional charge. So the option is great.
Tokyo Cafe - A really fair offering of sushi and a big bowl of Miso. Really quick service.
Ichiban - In my opinion they give you the most sushi for your buck in their chirachi offering. They also offer two different soup offerings to go with your lunch. For my money and all things being equal I prefer Ichiban's Chirachi lunch.

That's my take on the places I eat at regularly. In all fairness I haven't been to Tsunami or the other new places for lunch. Keep enjoying sushi Baton Rouge! I'm sure I'll post again on the best Baton Rouge sushi restaurants. Keep in mind that you can't beat Tsunami for a night of sushi with friends.