Copeland's Cheesecake Bistro Has Great Atmosphere
Don't forget some of the best food in town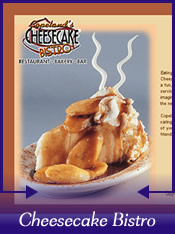 My wife and I recently went out to the Cheesecake Bistro to enjoy a wonderful dinner. Every time I go their I'm very impressed and leave very happy.
Cheesecake Bistro says on their website that dining should be fun, exciting and simple. Al Copeland left behind a truly beautiful creation in this incredible restaurant. Huge stars on the ceiling, endless colors and clever lighting add to their smooth atmosphere.
The food is a delightful array of cajun style creations. Seafood, salads, pizza and the main event in the desserts. Easily the best place in town to get your sweet fix. My personal favorite item on the menu is the blackened redfish. It's the best in town if you ask me.
My personal favorite is their bar area. It's very cool & comfortable. Their drink menu is second to none with some original creations.
The service level here is top notch. Very professional. I would go to the Cheesecake Bistro for any occasion.