Friday Afternoon At The Grape In Perkin's Rowe
Drinking wine and eating good food.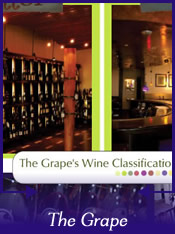 This past Friday my wife decided it was time for her to check out Perkin's Rowe. She has a tendency to make these sudden decisions but I was all for this one. Perkin's Rowe is a beautiful place to enjoy a sunny day in Baton Rouge especially with a great new place like the Grape.
We spent about two hours relaxing and enjoying good wine and food at the Grape that evening. It was great that the wine was categorized according to popular tastes. As a person with some pretty thorough wine education I found this approach to suggesting wines far more effective than some poor waitress giving her own opinions.
The food was very good. I found my quiche to be an excellent dish while Michelle wasn't a big fan of the quesadilla.(I found that an odd order at a wine bar) They had 6 good cheeses to choose from but I feel they could definitely expand on the cheese choices.
This was a great way to spend an afternoon. We then walked through Perkin's Rowe with a mellow buzz to check out some shopping.