Nagoya
Japanese Style Seafood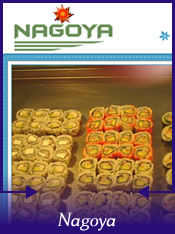 Nagoya opened it's doors in recent years and with all the places in town I usually go it took me a while to make it there. Personally I found the idea of buffet style sushi unappealing but I felt it was time to be adventurous.
I loaded up on a variety of rolls, sashimi and some crab leggs. The food was good and around what you'd expect from a typical buffet. I really enjoyed my visit and walked away very happy with what I got for $20.
I was particularly impressed with the large variety of desserts available. They had a large bar full of different cakes and creations. There were also several different types of ice cream.
The restaurant is clean, nice and new. The staff is very friendly. Good place.