New Orleans Restaurants Come To Baton Rouge
Recent Hits Come To Baton Rouge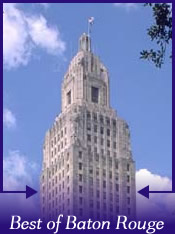 2008 brought some real hits to the Baton Rouge area. As we've grown over the last few years some of the great restaurants of the New Orleans area have taken notice leading to us gaining real gems for food and beverage options. Here are those that I've particularly noticed and become a regular to.
The Bulldog Tavern - This is the hot new place for Baton Rouge evening hours. If you love a rich, beautiful English style pub with over 50 beer options then this is your place. As a beer lover I'm particularly impressed with their German tap selection. They serve tavern style food. This is a great happy hour choice.

Isabella's Pizzeria - Hidden away in South East Baton Rouge on George O'Neal this is a great new option for pizza lovers. The ingredients are vey fresh tasting and unique from any other place in town. It has a Mediterranean flair.