Primo's Steakhouse Mahogany Bar
Steak and Martinis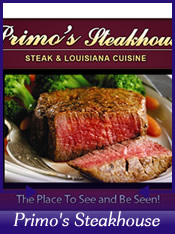 I'd never visited Primo's so I decided to stop in to give them a try after work one evening. The plan was to have a couple of drinks and a steak in their Mahogany bar just to see what it was like.
I walked in to the restaurant a little early at about 5pm. The hostess directed me to the Mahogany bar where the bartenders were kept busy by around 20 people. I sat down and felt a little out of place as their happy hour crowd is apparently the 45+ year old business crowd but it was still very friendly. The setting was low lit and very inviting. This would be a great place to bring my wife.
Two martinis later I decided to order dinner. I had the small filet and a potato side. This was by far the best steak I'd ever had in Baton Rouge. I left feeling very satisfied and ready to come back again.