Recent Visit To La Reyna Latin Restaurant
Authentic Honduran Dishes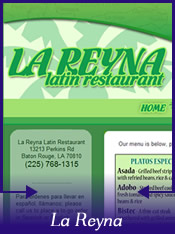 You know that a restaurant is 100% authentic if while watching Anthony Bourdain's No Reservations you're reminded specifically of that restaurant. Well Anthony was eating a wonderful looking pork stew in a beautiful South American country and it brought to mind La Reyna of Baton Rouge. I hadn't been there in at least a year because it's out of my way but I suddenly had to have their Puerco Guisado which is a big plate of spicy stewed pork served with tasty rice and beans. It's not like that overdone Mexican/South American you find all over the place which is basically Tex/Mex. It's literally 100% authentic. My wife ordered Honduran Enchilada's and was shocked at what she got. Not a cheese and sauce smothered dish but a creative arrangement of beef, cabbage, tomato, avocado and a fine cheese neither of us had had before.
If you haven't had a visit to La Reyna then you should take yourself out of the ordinary. Visit
La Reyna on Best Of Baton Rouge
or check out their
website
.