I Had Ruffino's Prime Rib Steak
One of the best steaks in Louisiana no doubt.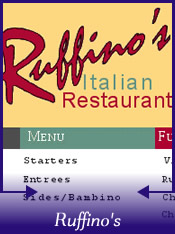 Since Best Of Baton Rouge began gaining viewership more often people want to discuss food. It's really important I don't have to tell you if you're from Louisiana that food is #1. I've been to Ruffino's for what's on the sign being common knowledge it's a well known and loved Italian restaurant. However those who really love quality steak will tell you that Ruffino's is #1 in something else.
Prime Rib and Ribeye Steak
Ruffino's has built themselves up as a local legend to people who love the best in steaks. They'll tell you people drive in from food famous New Orleans just for Ruffino's prime rib. I'm here to tell you it's well earned. I've been to every great steakhouse in the area and don't mind saying I'd match Ruffino's prime rib against their best cuts any day. Served a beautiful marble piece of beef with a perfect red color everyone at the table stared. Each bite was better than the first. The meat savory, tender and exploding with flavor.
So the buzz was 100% true. Thanks to my Internet writers and friends for recommending Ruffino's as the place for steaks.