Sunday Lunch At Copeland's Cheesecake Bistro
A great visit with martinis, great food and of course cheesecake.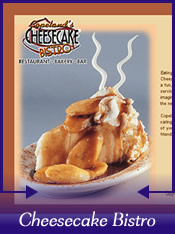 My wife and I decided to go enjoy a full round of the
Copeland's Cheeesecake Bistro
experience this Sunday. It was an excellent idea. The service was great as usual and the food absolutely wonderful.
We started out with a couple of martinis off their extensive list. My wife had the Woo Woo while I had a regular dirty martini. We skipped appetizers and went straight to the entrees. I had the Blacked Redfish and she had the Pot Roast. We were both extremely happy with our dishes. I have always contended their fish is one of the very best in town.
You can't go to the Cheesecake Bistro without enjoying something off their dessert menu. We ordered the Black & White Cheesecake slice which is an absolutely wonderful creamy mousse type of cake with a tasty cookie crust. I will definitely order it again.
This restaurant is great, has been great and will continue to be great. Check it out for a casual Sunday, a date or a business meeting. It's perfect for all.