Walk On's Finally Opens on Coursey
Our great LSU area Bistreaux & Bar opens a second location.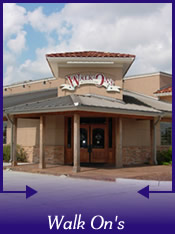 Finally some of our great local restaurant and entertainment entrepreneurs have brought one of their businesses to South East Baton Rouge. The new Walk On's bistreaux and bar has opened on Coursey Blvd and it's an instant hit.
I stopped in to our newest great restaurant to see what they'd done with their new location. A great building that'd been underutilized until now. A two story restaurant with a wonderful outdoors area on both the first and second floor. Jack and Brandon have taken it and brought their great LSU area creation to the other side of town.
Great food, more televisions than I can count and a fun casual atmosphere. This place will boom with visitors as it's opened in the area of town that needed a great place the most. Stop in soon and often.