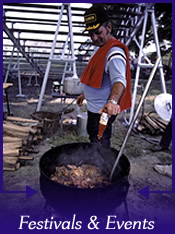 Like any large metro area there are a great deal of annual festivals and events in the Baton Rouge area. Most famous of course is Mardi Gras but there are also a host of wonderful festivals and annual events that are a must if you're here at the time. Baton Rouge is also a sprawling community so sometimes it can be hard to get hold of exactly what's going on. There are tons of wine, beer, arts, crafts and community festivals you might never hear about and live here all your life. We try to summarize them here.

You might notice many events listed on Best of Baton Rouge are also events that take place in New Orleans, Hammond or Lafayette but this is because some events are worth driving to and are heavily advertised in Baton Rouge. Looking at a map you'll notice Baton Rouge is only about an hour away from all these major Louisiana cities which makes it a great place to live. You have all these short drive options for fun!

If you're very interested in Louisiana and Cajun culture in and around Baton Rouge then please check out Cajun Clarence's Cajun and Zydeco Schedule of Events. It has everything mapped out for people interested in cajun music and culture. An excellent resource.