Science Fiction and Science Fun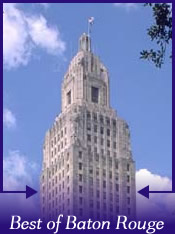 Held annually around March in Baton Rouge this festival is all about having a great time around the history of sci-fi and science. They host lots of workshops, games, discussions, book authors, concerts and more. You'll see all kinds of crazy fun stuff like folks dressed up as Klingons from Star Trek or Star Wars storm troopers. They also seem to always be able to get famous guests who played famous characters from science fiction shows/movies of the past. It's multiple days long, very relaxed and a lot of fun. Go check out their website or Google BabelCon and look at some of the past coverage on 2theadvocate.com because it sounds really cool.

I've personally never been to BabelCon but will go for 2011. It was brought to my attention when someone wrote me about a new addition to the Red Stick Animation Festival which is being put on by the organizers of Babelcon. Fandemonium will be a comic book, science fiction and fandom convention put on as part as that festival. Looks neat and provides more fun for fans of sci-fi in Baton Rouge.





Contact and/or Location Info:

Baton Rouge, LA 70801
Best of Baton Rouge Category: Festivals and Events


Originally posted 09/20/2010 by Wayne Odom