Baton Rouge Blues Festival
A celebration of the Blues in Baton Rouge.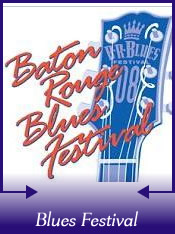 For nearly 15 years now this festival has been held in Baton Rouge. It's a one day celebration of the Blues that culminates Baton Rouge Blues week. It features around 10 hours of live entertainment from around a dozen Blues artists. You'll see acts such as Larry Garner, Henry Butler, Luther Kent and more. It takes place in downtown Baton Rouge and it sponsored by many of Baton Rouge's most celebrated businesses. The beautiful April weather really puts a cherry on top of this great day.
Contact and/or Location Info:
Baton Rouge, LA 70801
See Location On A Map
Website Available:
Baton Rouge Blues Festival
Best of Baton Rouge Category:
Festivals and Events
Originally posted 11/16/2008 by Wayne Odom

View Larger Map
See Detailed Google Map