Celebrating the appreciation of wine.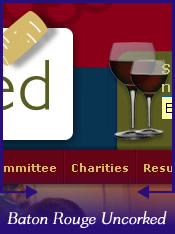 Baton Rouge uncorked is an association of individuals come together to appreciate wine. They organize seasonal events where they host a wine tasting where attendees bring bottles for a blind tasting competition. There is food, a silent auction and music to make for an easy going fun evening. At the conclusion of the evening the results of the tasting competition and the auction are revealed.

I've yet to attend this event but it looks like an absolutely wonderful time.





Contact and/or Location Info:

Baton Rouge, LA

Website Available: Baton Rouge Uncorked
Best of Baton Rouge Category: Festivals and Events


Originally posted 05/16/2008 by Wayne Odom