Celebrate Oktoberfest in Louisiana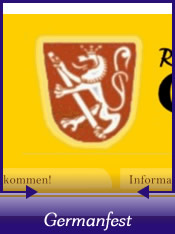 The great thing about Louisiana is you have all these pockets of culture close together. Spanish, French, German, English, American Indian, Vietnamese, Irish, you name it and there's likely a small community around that culture. Roberts Cove is about an hour and 15 minutes West of Baton Rouge close to Lafayette. Here you'll find a strong German presence dating back 150 years. Proud of their culture the people of Roberts Cove open up their arms annually and visitors are treated to local German food, heritage and genealogy. German singing and German Folk dancing performed by descendants from 8 to 80 years old are special attractions.

It's an easy drive on I-10 72 miles from Baton Rouge to Exit 87. From there less than a mile from I-10 is the festival. This is a great option for Baton Rouge residents looking to enjoy some German culture in the cool Fall air or October.

My wife and I checked out Germanfest for the first time in 2010. The church grounds were extremely beautiful. Lots of spread out space with huge oak trees providing shade. Plenty of large tents and the festival was extremely well organized. 100% run by local families with no professional carnival people or anything like that. There was folkore, lots of great German food, plenty of German music and of course BEER! I definitely plan on visiting this festival in the future for my Oktoberfest fix!

I'd like to point out it was extremely family oriented which is unlike many Oktoberfest I've been to that were crowded beer drinking events. There was tons for the kids and a lot of areas set aside especially for kids. This is a great family festival!





Contact and/or Location Info:

7212 Roberts Cove Road
Baton Rouge, LA 70578
(337)334-8354
See Location On A Map


Website Available: Germanfest in Roberts Cove
Best of Baton Rouge Category: Beer Festivals


Originally posted 10/02/2010 by Wayne Odom




Video from Germanfest in Roberts Cove




View Larger Map
See Detailed Google Map