Zapps and LSU Rural Life Museum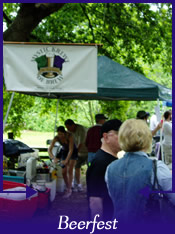 2007 was the first year I attended the Beerfest put on by Zapp's and the LSU Rural Life Museum. It was an absolute wonderful time. About a dozen tents from different brewers featuring lots of beers you've never had and some of your all time favorites.

Small brewers, local brewers and some of the larger brewers(Budweiser, Miller) set up tents and presented their great crafts. Entry was $25 and that included all you could tast. There was a great local band in the Red Stick Ramblers. Always entertaining and playing reat music.

Great March Event

March is always a slow month in terms of events in Baton Rouge. However this beer tasting event is arguably one of the most fun things you can do.

LSU Natural History Museum

The venue was abolutely wonderful. If you've never been back to the LSU Rural History Museum you're missing out on one of the hidden treasures in Baton Rouge.

Great Beer

Wow was the beer wonderful. Local brewers and some of the home brewers from the south brought out some truly wonderful treats. Definitely suggest this event for the future.

Look for this one the last weekend of March right after Saint Patrick's Day.

For 2009 it occurs March 28th and starts at 3:30pm. After being very crowed in 2008 they limited ticket sales to 1500 people which is very smart in terms of optimizing fun. They now have a website!





Contact and/or Location Info:

4650 Essen Ln
Baton Rouge, LA 70803
See Location On A Map


Website Available: BeerFest by Zapps
Best of Baton Rouge Category: Beer Festivals


Originally posted 03/31/2007 by Wayne Odom




Video from Beerfest Baton Rouge




View Larger Map
See Detailed Google Map