Big yearly party near LSU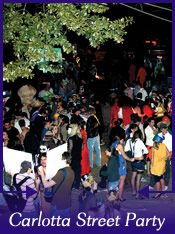 2011 party is October 28th

At the North Gates of LSU behind the Chimes you will find Carlotta street. Home to those who love to party and put on a hell of a good time with no real organization beyond tradition.(at least I think) Yearly they put on this excellent Halloween bash where everyone comes out to get absolutely crazy. It's a time that shouldn't be missed.

This is seriously an adults only sort of event. These people literally party in the streets and in their front yards. It's an LSU student populated residential area that happens to have this unreal tradition. Wear a costume!

Even though it's gone on for 25 plus years and attracts 5000 or so people this event only became officially permitted by the city in 2008. In recent years police have been shall we say "heavy handed" once the party gets rolling too hard.





Contact and/or Location Info:

Carlotta St
Baton Rouge, LA 70802
See Location On A Map

Best of Baton Rouge Category: Festivals and Events


Originally posted 12/02/2007 by Wayne Odom





View Larger Map
See Detailed Google Map