A Great Christmas Program for the Whole Family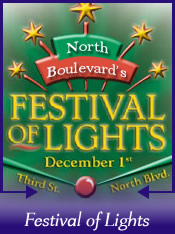 The festival of lights is how the city of Baton Rouge welcomes in the Christmas season. North Boulevard is all dressed up in Christmas lights and there are various activities taking place. Singing of Christmas songs, art displays, a fireworks show, a parade and presentations from various city officials such as Mayor Kip Holden.

Its a great event for the whole family and worth going check out. My girlfriend and I started our evening there before having dinner at Capitol City Grill and finally heading over to 3rd street for a few drinks where we saw the Mayor himself hanging out with the locals at Roux House.

I found the art displays to be very interesting. There was a man who'd set a world record for largest toothpick sculpture and various painters one of whom was painting while he was out there. I love that kind of stuff.







Contact and/or Location Info:

100 North Blvd
Baton Rouge, LA 70801

Website Available: Festival of Lights
Best of Baton Rouge Category: Festivals and Events


Originally posted 01/22/2007 by Wayne Odom





See Detailed Google Map