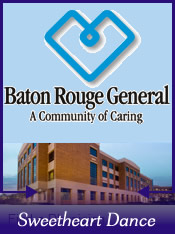 More than 700 dads of all ages come together each February to create special memories with their daughters. In celebration of American Heart Month and the month of sweethearts, Baton Rouge General's Foundaton hosts an annual Father-Daughter Sweetheart Dance to benefit patients of the General's Womack Heart Center.

The event has been held in recent years at The Holiday Inn Select. People really get in to the spirit of the event getting all dressed up and really having fun with it. There is a photographer setup for pictures, boutonnieres and corsages.

Baton Rouge General puts out a flyer for the event ahead of time with the specific details.Cost is $15/person ahead of time and $20 at the door. They also offer reserve tables. Here is the pdf for specific details from 2008.





Contact and/or Location Info:

Baton Rouge, LA

Website Available: Father Daughter Sweetheart Dance
Best of Baton Rouge Category: Festivals and Events


Originally posted 01/18/2009 by Wayne Odom