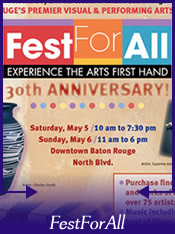 If you're like me and enjoy appreciating the work of talented local artists, live must and great food then this is for you. There are a variety of live performances and fun for the whole family.

This festival is very family oriented and I really encourage bringing out the whole family. It's held in the downtown area where they've really been working hard to bring good things to the community. Everything I've attended in the downtown area lately has been absolutely wonderful. Check it out!

FestForAll has been going on for nearly 35 years now. It's one of our longest running festivals and has a great reputation.





Contact and/or Location Info:

North Blvd.
Baton Rouge, LA 70802
Best of Baton Rouge Category: Festivals and Events


Originally posted 04/24/2007 by Wayne Odom