Bringing Louisiana Culture to the Table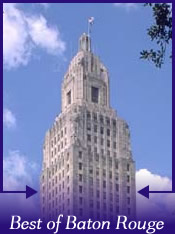 This great annual event has become huge and extremely popular in Baton Rouge. Essentially for a relatively small price you get to taste over 150 wines from all over the world and dishes from great restaurants such as Latte E Meile Gelato, French Market Bistro, Mansurs on the Boulevard, Galatoire's Bistro, The Little Village, Edible Eats, Ruffino's and many more. There's also live music, a silent auction, a wine contest and a chef's contest. It's huge and the buzz about it really gets going come early August. And why wouldn't it because the event last 3 days. Truly it's a festival of fine wine, food and culture of Louisiana.

Essentially the breakdown of the three days goes like so. The first day is the big awards dinner which runs $200 per person for a 6 course wine dinner by the best chefs in Baton Rouge along with live entertainment. Day two is the more public event with all the live music, auctions and open wine and food tastings. $50 ahead of time or $65 at the door for day two. Day three is a free family day event at the Main Street Market with cooking demonstrations, classes and the Red Stick Farmers Market. So as you see there is something for everyone at Fete Rouge. Check out their web link below for more details.





Contact and/or Location Info:

Baton Rouge, LA
(225)773-4889

Website Available: Fete Rouge
Best of Baton Rouge Category: Festivals and Events


Originally posted 08/18/2010 by Wayne Odom