Learn about the changing of seasons.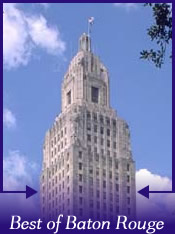 An interpretation of life in nineteenth century Louisiana put on by the LSU Rural Life Museum. If you've never been to the museum you'll be shocked at how beautiful and vast their location is. You'll also be suprised that it's hidden right here in the middle of Baton Rouge off Essen and I-10. This event will be awesome for kids and anyone who has a love for history and the beauty of rural Louisiana.

The event offers 2 days in mid-October of old-fashioned games, learning and hands-on activities. See how people did it 150 years ago right here in Louisiana. The gift shop offers handmand and unique items and they sell lunch so you can spend the day.





Contact and/or Location Info:

4560 Essen Lane
Baton Rouge, LA 70803
(225) 765-2437

Website Available: Harvest Days at LSU Rural Life Museum
Best of Baton Rouge Category: Festivals and Events


Originally posted 09/27/2010 by Wayne Odom