Great food, live music and fun right outside of Baton Rouge.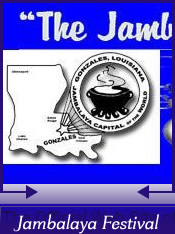 The Jambalaya Festival is held yearly less than 20 minutes outside of Baton Rouge in Gonzales. In the past 5 years the festival has undergone some changes and really made a big come back to be an absolutely wonderful time. Gonzales renovated the area of town by city hall and puts on a really wonderful event for the whole family.

Jambalaya is what it's about

To me the best thing about this festival is the jambalaya cooking competition to determine the champion for that year. The food is served to the public and man is it good. Wood fire cooked jambalaya by a bunch of people many of which are past champions, local chefs, etc.

Live Music inside and out

The festival gets alot of the quality local bands to come and play for everyone on a big stage they erect. Uniquely they have the Gonzales Recreation center in the center of the festival where you can go inside and enjoy another live act as well as air conditioning.

5K Run

If you're a runner than participate in the 5K run they have. See their site for details.

This festival is great fun for the whole family. The parties at night are wonderful and worth checking out.

For 2011 the Jambalaya festival takes place May 26-29. As always check their web link below for official details.





Contact and/or Location Info:

S Irma Blvd
Baton Rouge, LA 70737
See Location On A Map


Website Available: The Jambalaya Festival
Best of Baton Rouge Category: Festivals and Events


Originally posted 04/29/2007 by Wayne Odom





View Larger Map
See Detailed Google Map