A world class celebration of literature.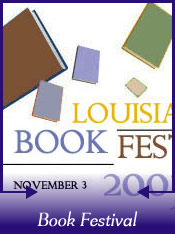 This great festival is held in one of the most pleasent times to be outdoors in Baton Rouge. Go out and enjoy hundreds of exhibits of writers and shop a variety of crafts and books. There is something here for anyone.

If you're like me and enjoy food and music then check this out. There are several live acts playing this festival and a variety of local caterers/vendors supplying great food. A great way to spend a Saturday.







Contact and/or Location Info:

North 4th Street
Baton Rouge, LA 70801

Website Available: Louisiana Book Festival
Best of Baton Rouge Category: Festivals and Events


Originally posted 10/14/2007 by Wayne Odom





See Detailed Google Map