Dogs, dogs, more dogs and Mardi Gras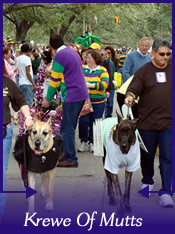 Many a dog lover will tell you that the yearly dog parade is the absolute best event for January. The Capital Area Animal Welfare Society puts on this great even where people bring out their dogs, get dressed up and celebrate. It's an absolute blast and it raises money for the CAAWS.

Sunday January 29, 2012 from 10am - 4pm the Krewe of Mutts Mardi Gras parade will howl down North Blvd.





Contact and/or Location Info:

6357 Quinn Drive
Baton Rouge, LA 70817
(225) 752-5801
See Location On A Map


Website Available: Krewe of Mutts
Best of Baton Rouge Category: Mardi Gras


Originally posted 12/13/2007 by Wayne Odom





View Larger Map
See Detailed Google Map