Oldest Mardi Gras parade in Baton Rouge.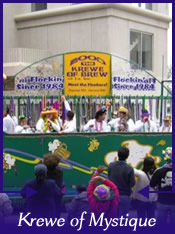 With an array of large and colorful floats this is one of the most entertaining parades of Baton Rouge's Mardi Gras celebration. They run in the downtown area starting out on River Road and making a loop through the downtown area. It's the longest running parade of the capital city and their experience shows. A must see!

Saturday February 11, 2012 at 2pm The Krewe Of Mystique rolls in downtown.





Contact and/or Location Info:

S River Road
Baton Rouge, LA 70801
See Location On A Map


Website Available: Krewe of Mystique
Best of Baton Rouge Category: Mardi Gras


Originally posted 12/16/2007 by Wayne Odom





View Larger Map
See Detailed Google Map