Held In Nearby Springfield.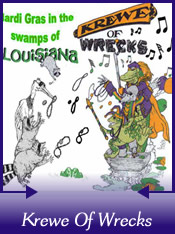 Since 1986 these party animals have been putting on a really wild Mardi Gras on the Tickfaw river. It's actually been recognized in the New Orleans Mardi Gras exhibit which means they must really make an impact.(60+ boat floats annually) They make a whole day of it as there's an after party for 2009 held at Blood River Landing.

See their website for more details. The website is actually that of the primary promoter. I couldn't find any exact area to go to see the parade however you might call Blood River Landing.(so we list their phone number)

I've heard this parade is not rolling for 2010. Probably because the great Crazy Charlie Albert passed away in an accident last year. Hopefully they'll bring it back for 2011. They're not back for 2011.





Contact and/or Location Info:

Baton Rouge, LA 70462
(225)294-3876
See Location On A Map


Website Available: Krewe of Wrecks Mardi Gras Boat Parade
Best of Baton Rouge Category: Mardi Gras


Originally posted 01/01/2009 by Wayne Odom





View Larger Map
See Detailed Google Map