The most popular Mardi Gras parade in Baton Rouge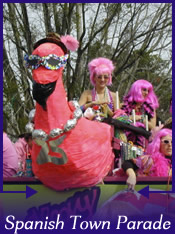 One of(if not the) longest running Baton Rouge Mardi Gras parade. Spanish town is extremely popular and the center of attention for Baton Rouge's carnival season. It starts each year in the oldest neighborhood in Baton Rouge. The parade is large and you've got to get down to downtown early in the morning before they close the streets off for the parade.(before 8 am)

Spanish Town parade has a theme that revolves around pink flamingos. Thousands of people all out costumed in pink with flamingo art everywhere. It's a wild and crazy party that you don't want to miss.

Spanish Town is thought by some to be more adult oriented in their approach to carnival. While this may be true in Baton Rouge it's very PG especially in comparison to almost every parade in New Orleans.

I highly suggest you go explore their website. They do an excellent job of documenting their parade information on the website. Including a detailed parade route.

Rolls Saturday February 18, 2012 at noon.





Contact and/or Location Info:

2954 Perkins Rd
Baton Rouge, LA 70808
See Location On A Map


Website Available: Spanish Town Parade
Best of Baton Rouge Category: Mardi Gras


Originally posted 02/17/2007 by Wayne Odom





View Larger Map
See Detailed Google Map