Celebrating Blues In Downtown Baton Rouge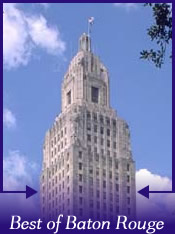 For a week every April Baton Rouge comes together to celebrate it's heritage in Blues. For the most part it features a number of live events put on by businesses and organizations in the downtown area culminating with the Baton Rouge Blues Festival which is an all day celebration of Blues through live performances. You'll see many of the great artists you can browse on the Baton Rouge Blues Society website during this week celebrating what they call the most musical 125 mile radius on Earth.

I'm not really sure if I've listed the official website(or if there is one) but look for the many Blues groups in Baton Rouge to promote it hard right before April.





Contact and/or Location Info:

Baton Rouge, LA 70801
See Location On A Map


Website Available: Baton Rouge Blues Week
Best of Baton Rouge Category: Music Festivals


Originally posted 05/27/2009 by Wayne Odom





View Larger Map
See Detailed Google Map