Huge Concert in Tiger Stadium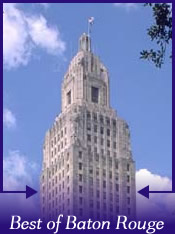 First held in 2010 this festival was a huge hit. People got to tailgate a whole weekend outside Tiger Stadium and enjoy the fan fair of Country music that went on. It was huge with around a dozen big names performing for over 87,000 people. Only Tiger Stadium and the logistics of LSU can handle that kind of thing around here. People who went said it was great.

The university and the organizers got together, did the math and decided to bring it back for May 28, 29 of 2011. Kenny Chesney, Tim McGraw, Trace Adkins, Sugerland and a bunch others are playing. Tickets are already on sale and available through the Baton Rouge River Center Box Office or ticketmaster.com. If you love Country music this is a can't miss. Their website is well detailed and updated regularly so see it for more information.





Contact and/or Location Info:

N Stadium Dr
Baton Rouge, LA 70803
(504)410-4100

Website Available: Bayou Country Superfest
Best of Baton Rouge Category: Music Festivals


Originally posted 11/22/2010 by Wayne Odom