Free live music in downtown Baton Rouge.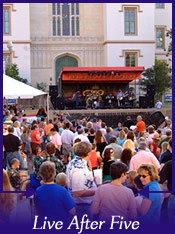 Live After Five is a great event that takes place every Spring and Fall. The Downtown Business Association puts on the event to help promote all the great businesses of the downtown area. There is lots to do and the whole community comes together to have a great time for a few hours every Friday at 5:00pm. The event takes place in the beautiful Galvez Plaza with the stage shadowed by our historic old state capitol building.

I love going watch live music in Baton Rouge and I've got to say they've put together a great season of entertainment for us.

When I first attended Live After Five there were only 6 concerts. Then there were 7 and last I counted 8 per season. The Mayor and the DBA have created a great thing for Baton Rouge.





Contact and/or Location Info:

Baton Rouge, LA 70802
Best of Baton Rouge Category: Music Festivals


Originally posted 02/12/2007 by Wayne Odom