Live Cajun, Zydeco, Blues and more.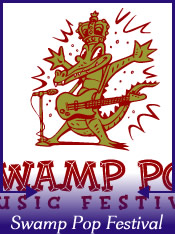 South Louisiana has a wealth of culture. One of many celebrations comes in the form of the annual Swamp Pop Festival. Come out and enjoy our rich culture through an incredible music festival featuring world famous musical entertainment. I suggest you check it out every year as many classic acts such as Van Broussard won't be around for much longer!

The Lamar Dixon Expo center is an excellent place for any outdoor event. This is certainly a top event to see in the Baton Rouge Metro area.

I did this event for the first time in 2008. I spent a Friday night enjoying the great sounds of "The Wayne Foret Band". They served jambalaya from the cooking competition they'd held earlier that day and it was very good.

I really enjoy events held at the Lamar Dixon Expo center as they're always professionally run with easy parking and lots of lighting.





Contact and/or Location Info:

9039 S Saint Landry
Baton Rouge, LA 70737
(225) 621-1700
See Location On A Map


Website Available: Swamp Pop Festival
Best of Baton Rouge Category: Music Festivals


Originally posted 06/28/2007 by Wayne Odom





View Larger Map
See Detailed Google Map