A Competition and Festival for the Whole Family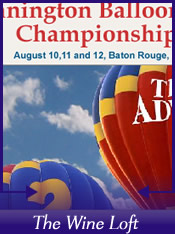 This is an absolutely wonderful yearly event for the whole family. I can personally remember going to this event as a kid and I'm nearly 30. A big fun event that grabs national attention including coverage by ESPN. It's also set up to be fun for the entire family.

Three days of hot air balloons, fireworks, shows, demonstrations and live entertainment. It's held in the big open area over at Pennington Biomedical Research Center. Check it out!





Contact and/or Location Info:

6400 Perkins Rd
Baton Rouge, LA 70808
(225) 933-2027

Website Available: Pennington Balloon Championship
Best of Baton Rouge Category: Festivals and Events


Originally posted 07/25/2007 by Wayne Odom





See Detailed Google Map