Baton Rouge's July 4th Party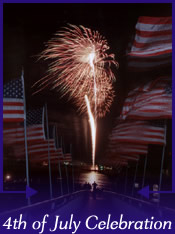 It's a pretty huge party that goes on all day starting around mid day. The downtown Baton Rouge 4th of July celebration features a whole array of fun for the whole family. Live music, face painting, shows, exhibits, food, fun and don't forget the fireworks.

Held every year downtown in front of the USS Kid museum. It's a don't miss if you're looking for something a ton of fun to do. Celebrate our Independence day with red stick's biggest party!

2010 Details:

This July 4th, journey downtown to the Baton Rouge riverfront. The annual Star-Spangled Celebration will kick off at 12:00 p.m. at the Riverfront Stage between the USS KIDD Veterans Memorial and Red Stick Plaza with live music starting at 3:00 p.m. See website link below for complete details such as parking. The music will be Chris Leblanc, Jenny Brooks and Baton Rouge Concert Band.





Contact and/or Location Info:

Baton Rouge, LA 70801
See Location On A Map


Website Available: Baton Rouge 4th of July
Best of Baton Rouge Category: Festivals and Events


Originally posted 06/14/2007 by Wayne Odom





View Larger Map
See Detailed Google Map