Baton Rouge's Best of Food and Wine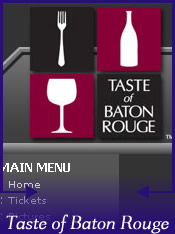 For five years now this event has showcased the best wine and dine experiences Baton Rouge has to offer. Many of our best caterers and restaurants come out and show their stuff. An upscale atmosphere for a sophisticated presentation of the great tastes of Baton Rouge. This is a don't miss event.

It's held and the Centroplex, put on by Clear Channel and sponsored by many of our largest businesses. Tickets are available ahead of time or at the door for $45.





Contact and/or Location Info:

275 River Rd S
Baton Rouge, LA 70802
(504)620-0962
See Location On A Map


Website Available: Taste of Baton Rouge
Best of Baton Rouge Category: Festivals and Events


Originally posted 09/03/2007 by Wayne Odom





View Larger Map
See Detailed Google Map