Yearly event showing you what tailgating is about.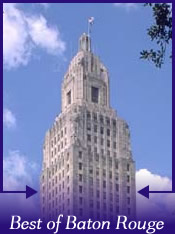 Iberville Motors and Eagle 98.1 present Taste Of Tiger Tailgating at the Baton Rouge River Center. It's food, fun, and the biggest tailgate party of the year! Sample food and beverages from many of the best restaurants and caterers. Be sure to check out a huge assortment of L.S.U. merchandise, and collectibles.

Every year towards the end of August the Taste of Tiger Tailgating event takes place. Local businesses and LSU football enthusiasts get together and put on an expo of sorts on what LSU tailgating is all about. Tickets are sold ahead of time through Ticketmaster Ticket office. Lots of merchandise and food samples. An excellent time not to miss.

The website link I keep is for Eagle 98.1 since they're the organizer and primary promoter. Alternatively you can go to the Ticketmaster Website and do a search where it shows you the date/time and will allow you to buy your ticket!





Contact and/or Location Info:

275 River Rd S
Baton Rouge, LA 70802
(225) 389-4940
See Location On A Map


Website Available: Taste of Tiger Tailgating
Best of Baton Rouge Category: Festivals and Events


Originally posted 08/09/2007 by Wayne Odom





View Larger Map
See Detailed Google Map