English village and market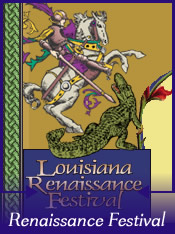 This is an extremely fun festival and by one of the best events here in Louisiana if you're looking for something different. It's a very quick and easy drive East of Baton Rouge down I-12. It takes place over a month of weekends providing a whole dazzling array of events. Not limited to but including:


A whole cast of over 300 actors dressed up and entertaining patrons.
A village of buildings, stages and 100 shops surrounding a small lake/pond.
Live jousting, birds of pray show, sword duels, juggling, taverns, rides, games, stages and other shows.
Food, drinks, wine tastings, whiskey tastings.
Educational packages for kids & schools.

One thing I was particularly taken with is how people patronizing the festival get dressed in character and take part of the event. Everyone gets so in to it and it helps you in to the spirit. My friends had no idea what at a renaissance festival was but by the end they were in character and wanting to get their own garb.

Very interesting is that many merchants were also demonstrating their craft while selling. A glass blowing exhibit, a master carpenter, people making chain armor, a candle maker.

The area in Hammond is a slightly hilled rolling area. If the weather is cool it's a far more fun experience.

Bring your wallet. $14 single day pass for adults and if you like to drink and shop like me then you can easily put down a few hundred dollars. I was happy with my expense though. I spent a lot of time singling drinking songs with the minstrels in the tavern.





Contact and/or Location Info:

46468 River Rd
Baton Rouge, LA 70401
(985) 429-9992
See Location On A Map


Website Available: The Louisiana Renaissance Festival
Best of Baton Rouge Category: Festivals and Events


Originally posted 11/16/2008 by Wayne Odom





View Larger Map
See Detailed Google Map