Haven for fun and education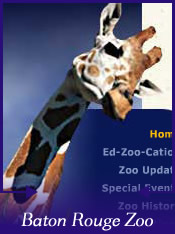 It's not the biggest zoo in the world but the Baton Rouge Zoo is a wonderful place to take the family or enjoy a day. They've been growing in recent years so it's always getting better.

There are also a great number of special events. Summer camps for kids and special events on holidays. Their website is updated often so take a look at it to find out what's new.

My personal favorites are the elephants. I've been there multiple times in my life and always had a great time. I suggest you check it out during the Spring so you don't get worn out by that Louisiana heat too much.

Boo At The Zoo - A very popular Baton Rouge halloween event. Great for the whole family. Every October.





Contact and/or Location Info:

3601 Thomas Rd
Baton Rouge, LA 70807
225)775-3877
See Location On A Map


Website Available: The Baton Rouge Zoo
Best of Baton Rouge Category: Family Fun


Originally posted 12/02/2007 by Wayne Odom




Video from Baton Rouge Zoo




View Larger Map
See Detailed Google Map